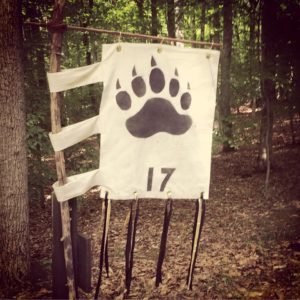 Founded in the fall of 2012, the 17th Black Bears is the longest-running OSG group in Northern Virginia. Our troop regularly meets in Woodbridge, VA for events like hiking and camping.
We camp several times a year and participate in regional campouts and activities with other OSG groups in Northern Virginia and the East Coast.  The scouts earn proficiency badges and work on community service projects throughout the year.
We have scouts in Otters (ages 5-7), Timberwolves (ages 8-10), and Pathfinders (ages 11 and up). Adults can scout, too, as Rovers. 
Our scouts chose our group name, Black Bears, to honor the native animal known for its resourcefulness. Our neckers are black for the bears with a yellow stripe at the edge, for honey.
Our troop has scouts in all age groups and respects the differences of all people, regardless of religion, race, gender, orientation, neurodiversity, or ability.  We welcome all those who want to explore the outdoors and give back to the community with an open mind and a sense of adventure.